SEO Vs PPC - How They Match Up In Digital Marketing
SEO Vs PPC? What's different and why should you consider both?
For startups and small businesses, Search engine optimization (SEO) and Pay-per-click (PPC) can be the gateway to getting new customers but with different approaches.
They both boost traffic to your website based on your effort and digital strategy. You can generate targeted web traffic by using the PPC advertising programs provided by Google Adwords, Yahoo Search Marketing and others.
You will be charge for every bid on your keywords based on clicks to your website. With SEO, you will have to focus your time and energy on researching keywords, building high quality targeted links and great content.
You can see how PPC Vs SEO are broken down below:
Organic Search Engine Optimization
This is simple content building, natural link building (others linking to you) as to get your website ranking better on search engine results.
With a budget, almost anyone can market their products and services online with paid advertising.
PPC works when a potential customer clicks on an Ad. when this action occurs, the cost will be deducted depending on the keyword bids within thats specific group of the campaign.
Most notable ppc platforms - Google adwords and Bing Ads.
What are the differences between Organic SEO and PPC Campaigns?
Organic SEO
Cost no money but time consuming to implement
Extensive research that might take months to complete
Also good to start early on with your website as the process is slow to adapt
Optimize pages to focus on keyword that you use on your site pages
PPC Campaigns
Cost upfront money to implement depending on your budget
Short term research within days to get started
Can start anytime with ppc ads and reach potential customers
Target audience focused with keywords within your niche
You've built your website and now it's time for visitors...Wait. wait.. no visitors. So how do I get my hard work to pay off?
As you will see below on the slideshow, there are two types of marketing strategies you can use to jump-start your online visibility. know what you need to get your business growing online, while you concentrate on achieving your goals offline.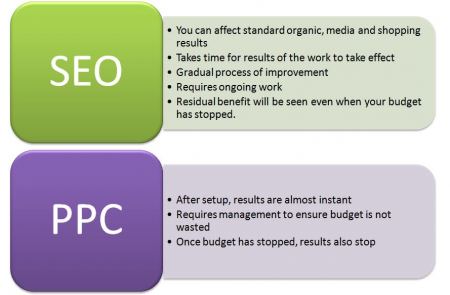 Backlinkfy is a Digital Marketing Service for brilliant Entrepreneurs, Startups & SMB's.